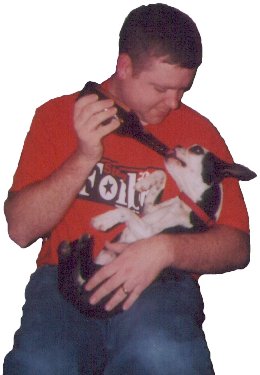 This picture is of our first born, Orca the killer puppy, who still likes to drink from bottles. My wife and I currently live in Des Moines, Iowa, with our twin boys plus one boy. I graduated in 1995 with a math and physics degree and am currently working at Allied Insurance as a computer programmer. I started making web pages in 1996 and my site has been growing since. Please check each of the links to my pages below as they are all important to me in some way or another.

Thank you for visiting my web page.




MY RESUME




PAGES MADE AND KEPT UP BY ME

dedicated to my favorite online sim, WARBIRDS

I am the web master for my local chapter of DELTA CHI


the great PIANO PROJECT


homepage for ERRTHUM BREWERY's Trojan Warrior


WEATHER IMAGES for Iowa

my all important FAMILY


design your own pinball game with my PINBALL APPLET


ANTI-SPAM applet for web developers

my personal EVOLUTION experiment

WATER ROCKETS!!!

Chopper Project-- Mix in life long desire to own a motorcycle, the drive to build everything myself, a barrage of chopper programs on the Discovery channel, compulsive behavior, lack of money, and a wife's outlook on motorcycles, and you get this.

Sibling Wars (11meg WMV)
- a home brewed movie short

Pictures of my homemade digital picture frame
Ant Farm Simulation
- a Java Applet I wrote to sub in for the real thing.
other websites I have done (in order, oldest first):